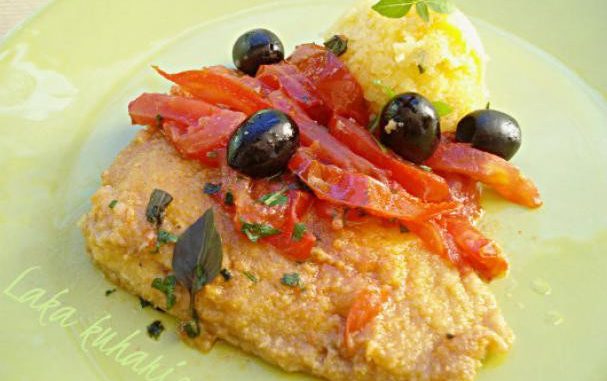 Ingredients:
¾ cup pitted black olives
500 g cod fillets, fresh or frozen
½ cup instant corn polenta
3 Tbs corn flour
¼ cup dry white wine
Fresh parsley, chopped
¼ cup olive oil
A pinch of dry oregano
Fresh oregano, chopped
A pinch of salt
Pinch of Salt
1 pound peeled tomatoes
2 Tbsp Cold Water
½ tsp white pepper
¼ cup white wine
Instructions:
If the fillets are frozen, thaw them.
Mix corn flour, salt and white pepper.
Dredge the fillets through the flour mixture, and sauté them in the oil for 3 minutes on each side.
Sprinkle the fillets with white wine.
Add tomatoes and olives, cook for about 5 minutes.
Before serving, season the fillets with oregano and parsley.
To make polenta, bring the water to the boil, add wine, oregano and the salt. Gradually stir in the instant polenta and cook, stirring constantly, about 5 minutes or until done. Add some boiling water if needed. Cool slightly and serv with the fish.