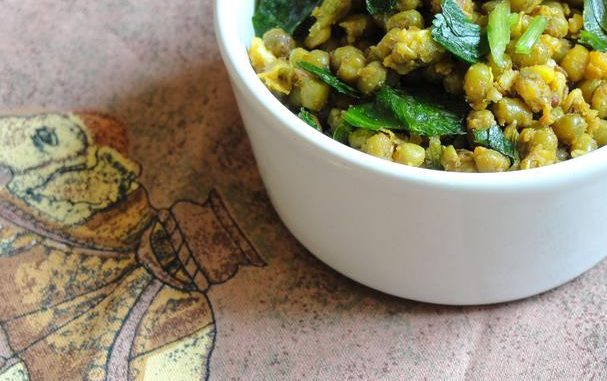 Ingredients:
1 small pinch baking powder
2 mediums hot chillies, minced
1 teaspoon cinnamon powder
1/4 cup chopped coriander
2 teaspoons cumin seeds
6 curry leaves
1 tablespoon garlic, minced
1 tablespoon lemon juice or to taste
1 1/2 cups mung beans
1 teaspoon mustard seeds
Salt to taste
Sugar to taste
1 tablespoon sunflower oil
1 medium tomato, chopped
1/2 teaspoon turmeric
Instructions:
Wash the mung beans and boil them in plenty of hot water with a pinch of baking powder until al-dente. If you have a pressure cooker that's about 6-7 whistles. Drain and set aside.
In a large pan heat the oil and add the mustard seeds (wait for them to pop) then add the cumin seeds, asafoetida, curry leaves, garlic and chillies. Sauté until aromatic. Obviously don't let it burn.
Add the tomatoes, turmeric and mung beans and cook for two minutes. Be careful not to mash it up as you stir.
Add the salt, sugar, lemon juice and cinnamon powder and cook for a further two minutes.
Throw in the chopped coriander, combine and serve.