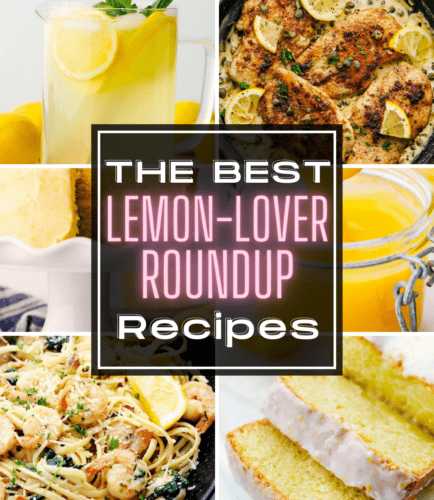 Lemon-lovers, this roundup is for you! Springtime is the official kickoff for lemon recipes and I have rounded up all of my tried and true favorites into one place! These recipes are the best of the best!
Lemon is fresh and adds such a bright flavor to any recipe! Try out a few of my very favorites first like this lemon garlic seafood pasta, this glazed lemon bread, or this amazing lemon chicken piccata.
Lemon Recipes Roundup
Well hello, Lemon-Lovers! Today I'm celebrating the fact that it is officially spring! I am so excited I can hardly even stand it! Warm-weather eats and citrus-y treats are starting to call my name! So I've gathered a bunch of totally mouthwatering sweet recipes featuring all things LEMON for this roundup! Lemon is one of my favorite ingredients to use when I am cooking because you can use it in sweet and savory recipes.
I have included all of those in this lemon roundup! You will find desserts, breakfast foods, dinner entrees, and everything else in between. Because lemon adds in such a unique flavor to a dish, whether it's a strong flavor or subtle, you don't want to leave the lemon out! Once you look through this roundup then I know that you will definitely find a recipe that you call a keeper. In fact, I think the hardest part will be picking just which one is your favorite!
The Recipe Critic
Read More