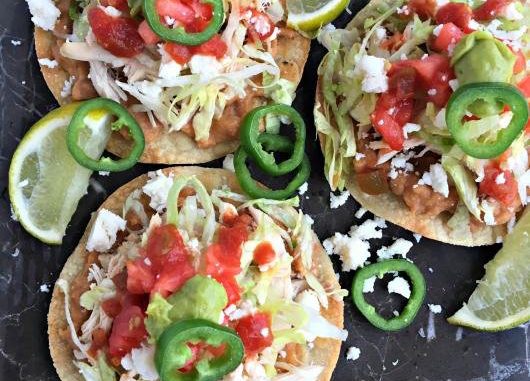 Ingredients:
2 cups rotisserie chicken – shredded
6 small corn tortillas
1/3 can refried beans
1/2 tomato, diced small
1 jalapeño, sliced
Shredded iceberg lettuce
Cotija cheese (Mexican queso)
1 lime – cut into wedges
6 teaspoons guacamole
Salsa
Instructions:
Preheat oven to 350°
Place corn tortillas on a cookie sheet and back for 16-17 minutes or until the edges brown and curl.
Cool cooked tortillas at room temperature.
Instructions:
Spread 1-2 TBS of refried beans on each tortilla.
Top with a handful of shredded chicken.
Top with shredded iceberg lettuce
Top with diced tomato.
Top with guacamole.
Drizzle with the juice of one lime wedge.
Sprinkle with cotija cheese.
Drizzle with salsa.
Garnish with jalapeños.
Serve open-faced.