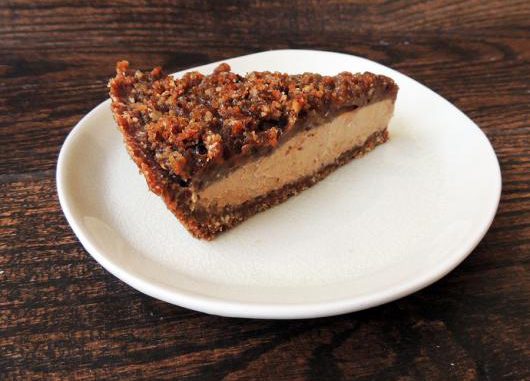 Ingredients:
1 teaspoon agar flakes
1/4 teaspoon agave
1/4 cup agave nectar
1.5 cups raw almonds
1/2 teaspoon cinnamon
3 tablespoons pure cocoa powder
3 teaspoons pure cocoa powder
4 tablespoons pure cocoa powder
1/4 coconut oil (melted)
1/2 cup creamy unsweetened peanut butter
1/2 cups dates (same kind pre-chopped coated in oat flour)
1.5 cup pitted dates ( I used chopped dates that were coated in oat flour from my local Sprouts store)
1 block extra firm tofu (Please use organic tofu!)
1/4 cup maple syrup
1/2 cup peanut butter
1/2 cup soy milk
3/4 cups soy milk
1 teaspoon vanilla extract
1 cup water
Instructions:
In a blender or food processor add the almonds, dates and cocoa and blend well. It should be a fine powder and it should stick together in almost a paste like form. Add to mixing bowl and pour in melted coconut oil.
Press into a glass pie dish. Press firmly until the crust is formed. If you press firmly enough it will hold together perfectly when its time to cut.
Cover and put in freezer to chill while you work on the filling.
Instructions:
Boil 1 cup water and add agar flakes. If you boil stirring constantly for 10 minutes until dissolved. Once dissolved turn the heat on low and add the maple, peanut butter, chocolate, and agave, stir on low until joined. Remove from heat and add soymilk. Let cool and store in an airtight container for two hours in the fridge.
Instructions:
Drain tofu for 15 minutes in a colander with a plate and heavy can or jar to get any excess water out. Add to food processor or blender. To the blender also add cinnamon, vanilla, dates, maple, peanut butter soymilk, agave, and blend until creamy. Scrape down sides and blend again.
Remove pie crust from fridge and pour filling over. Let firm in freezer for two hours.
Once tofu filling is firm add the topping. By now the agar should have set and it should be thickened. Let sit overnight or for about four hours.
Blend 1/2 cup remaining dates and sprinkle on top
** If you don't have agar or can't find it, you could use this recipe for my cupcake frosting.
For the topping without agar
teaspoons pure baking cocoa
1/2 cup peanut butter
3/4 cup maple syrup
1/4 cup agave